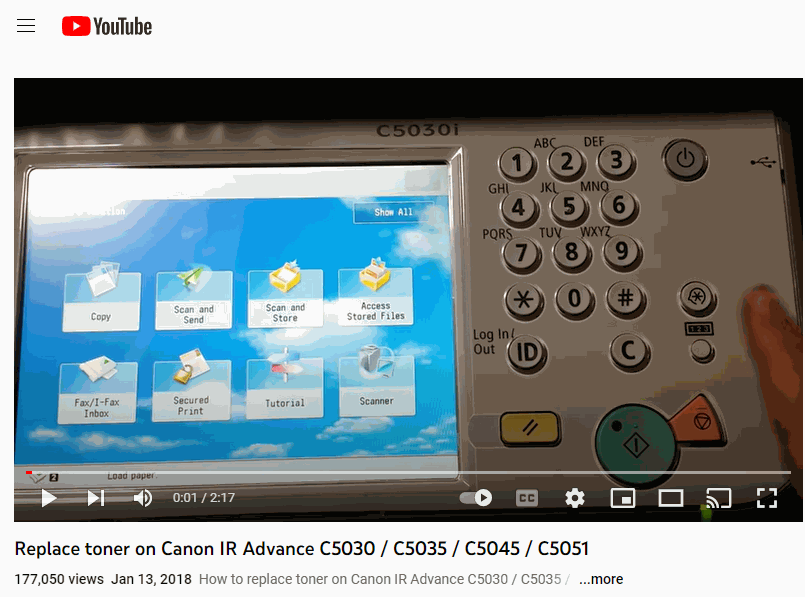 Manually Replace a Color Cartridge
---
Every so often you may need to manually replace a toner cartridge, when the copier does not read the level properly.  In this case your copier in settings may be programmed to access the selected toner cartridge you wish to replace
If you unit is not pre-configured to give you assess to this feature, you can turn it on in service mode Level 2.  Select the image to the left for a detail video.
Procedure for Replacing the Toner Cartridge
When replacing toner cartridges, follow the instructions shown in the video along with those written below.
When replacing multiple toner cartridges at the same time, replace them in the order black, yellow, magenta, cyan.
Press 
.
When the black toner has run out completely, this procedure is not necessary.
Open the toner replacement cover.
Hold the left and right sides of the toner replacement cover, and pull the cover towards you to open it. The replacement cover (small cover) of the slot will open for the toner in need of replacement.
Do not open the small cover by force, as doing so may damage the machine.
Pull out the toner cartridge.
Make sure to avoid applying shocks to the toner cartridge by hitting it against something, etc. Doing so may cause the toner to leak.
Remove the new toner cartridge from its box.
With the white part of the new toner cartridge facing up, shake the toner cartridge up and down approximately 10 times.
Shaking the toner cartridge evens out the toner inside.
An error message is displayed if you install the toner cartridge before the toner inside has evened out. Follow the instructions on the screen and perform the procedure again.
Do not have the white part of the toner cartridge face down. Doing so may prevent the toner from being supplied properly.
Install the new toner cartridge.
Before installing the toner cartridge, confirm that the color of the toner cartridge and the color indicated on the small cover are the same.
With the flat surface of the toner cartridge facing down, slide the toner cartridge into the small cover as far as it will go.
Close the small cover.
The small cover cannot be closed unless the toner cartridge has been pushed in as far as it will go. Do not try to force the cover closed, as doing so may cause it to break.

Close the toner replacement cover.