By opting to print cannabis product labels in house, business owners can avoid unexpected delays from print shops, which can make fulfillment unnecessarily complicated. After speaking with some local manufacturers, they've shared that differing potency test results between manufacturers and distributors can mean an additional round of correctional labels, which is also prone to being delayed by the print shop.
While traditional printing methods are extremely efficient for runs of very high label quantities, it becomes increasingly inefficient the smaller the label quantity becomes. This is why flexographic shops impose minimum order quantities. The painstaking setup procedure associated with traditional printing methods is too involved for smaller jobs. With the wide variety of different cannabis products and strains, the business owner is left in an awkward position, and often times, without labels. This is where on-demand, digital color label printing can help.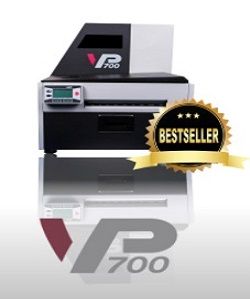 Why use the VP700?
---
The VP700 is a rugged, desktop color label inkjet printer capable of printing up to twelve linear inches per second. With its 8.5" print width, it's capable of printing eight stunning 4" x 3" rectangular labels per second, equating to a whopping 480 labels per minute, and a staggering 28,800 labels per hour. Need the labels to be applicator ready? No problem. Simply connect a rewinder to the output of the printer and watch as the VP700 churn out labels at an unbelievable rate.
No retooling, no set up, and no clean up fees. Just load your label media and print your file. Jump into the labeling space with the VP700, the printer that prints like a
press, at a fraction of the cost. Don't believe us? See for yourself and schedule a demo with us today!